So I took up a challenge this year.
Yup. Me.
It's over at Faith Sisters.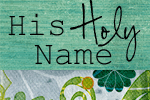 They are doing 26 weeks of designs with the center being around
God and His Holy Name
. His attributes if you will.
So....January 4th our first challenge was given to us.
The study? Holy.
Here are a couple things I've done for the book this far. I've designed it to be a 6x6 book that I will print up and use for study. :) I'm pretty excited actually.
I like the idea of spending all year studying out of His word, and learning more about God. I love that if I miss a week, I'm not going to stress, but I have two weeks to get my layout done.
This is my cover page.
Credits:
Paper: A Formal Affair by
Trixie Scraps

Font: satisfaction
Alpha:
Peta Boardman Designs
Paper and Flower: Edward by
Ellie Lash
This is my description page.
Credits:
Paper & Flowers: Edward by
Ellie Lash
Fonts: 2Peas Blessings
Cross:
Farrah's Creations
This is my Challenge 1
Credits:
Font: 2Peas Blessings
Kit: Falling For You by
Scraps by Andrea
My verses: Psalms 77:13 and Leviticus 11:44
So if you're interested, click
HERE
, to take up on the challenge! Don't forget to post your work in the gallery! I love looking at all the great layouts that people are doing! Oh, and a lot of ladies are doing paper scrapping for this! :)