Are you ready?!
Yesterday, I showed you a sneak peek of Trixie's first-ever solo grab bag and I'm so happy to tell you that today, its officially released for sale! Here is a look at the grab bag preview, which gives you a peek at a whole bunch of stuff you will find inside the bag. If you click on the preview, you will be taken to the grab bag in Trixie Scraps shop at Scrap Matters - remember, its an $18 value for just $4.00, and its only on sale until August 20th!
And I said yesterday in just a matter of a few hours I'd done 3 layouts....I'm not the only one that's gone nuts over this fantastic bag! Check out some of these amazing layouts done by my fellow CT members and some of the CT from Scrap Matters!
Now I also mentioned real quick that Scrap Matters is having their 2 year birthday this weekend! What's a store birthday without a sale?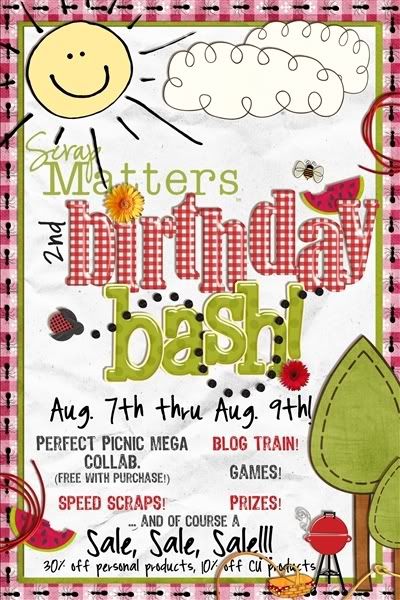 All personal use products are 30% off, all Commercial Use products are 10% off, and all the Kaiser Craft hybrid products are 20% off, too! To sweeten the deal even more, of course they have a brand new MEGA kit for you! "A Perfect Picnic" is FREE with any single $15 purchase from the Scrap Matters store, this weekend only!
And, if you spend $20 or more in a single purchase, you'll not only receive the MEGA kit, but you'll also receive the coordinating "Hybrid Party Pack," too!
Now, you don't want to miss a single Speed Scrap because they ALL have fabulous participation prizes AND they're going to be a lot of fun, too! Here is the full schedule of Speed Scraps:
Trixie is hosting the Speed Scrap on Saturday night at 9pm EST - here is a peek at the participation prize she'll be giving away!!
There is also tons of games to play with of course prizes to give away! :) You can check out all the game info out
HERE
in the Scrap Matters forum.
xoxo