Life has been set on crazy mode all month and it's trickled into October.
My poor blog is neglected to say the least!!! :( But hopefully I fall into a rhythm soon....Between work, home, and a course through my church, I'm booked solid most days!
Moving along, Trixie Scraps has been BUSY this month!! You should check out
her blog
for all the goodies and freebies she's got going on over there. I think this week alone there has been 4! :D
Last week Trixie released "Love of a Lifetime" as part of Gotta Pixel's Gotta Grab It event. This week all of those items are on sale individually for 30% off until the end of the month. But, she also bundled all five of the Love of a Lifetime products together and you can save over 50% off the regular price of these items when you
"buy them together!"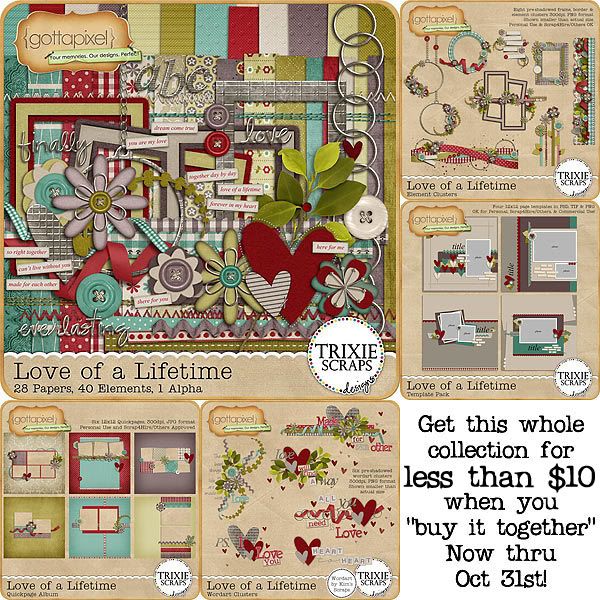 The
full kit
includes 28 papers, 40 elements, and 1 alpha
The
template pack
includes four 12x12 page templates in PSD, TIF and PNG format
The
quickpage album
includes six 12x12 quickpages in PNG format
The
element cluster pack
includes eight amazing pre-shadowed frame, border and element clusters in PNG format
The
wordart pack
includes six pre-shadowed wordart clusters in PNG format
There are two bundle options, too!!
Buy the kit, templates and element cluster
bundle for just $7.99
Or, for less than $2 more,
use the "buy together" option
on the bundle product page and get the quickpages and wordart, too!
It's quite the steal to be honest :)
Here is what I did with this bundle:
Thanks for checking in! Happy Scrapping!t